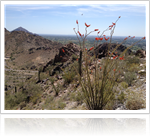 The Town of Carefree is home to nearly 4,000 residents and is situated in the foothills of the Sonoran Desert, to the north of its larger neighbors – Scottsdale and Phoenix. The town was incorporated in the 1980's and experienced a large population growth in the 1990's of nearly 2,500 residents. This quaint desert town in the north valley is also known for its many world class art shows throughout the year, as well as community concerts. It's worth a trip and offers many shops, galleries and restaurants surrounded by the beauty of the dessert.
The safety of the town is overseen by the Maricopa County Sheriff's Office (MCSO) under an Intergovernmental Agreement with the Town of Carefree. The MCSO substation is located at 37622 N. Cave Creek Road. The town also has a courthouse – the Carefree Municipal Court, which is located at 100 Easy Street, Carefree, AZ in the Town Council Chambers (in the same building as the US Post Office). The Carefree Municipal Court handles all traffic, misdemeanor and town ordinance violations, and court is held on Thursdays at 9:00 a.m..
The Firm handles all types of criminal and DUI cases throughout the valley, including cases in the Carefree Municipal Court. If you have been charged with any crime, including any type of DUI charge, Disorderly Conduct, Assault, Domestic Violence, Criminal Traffic, Juvenile Crime or any other criminal charge in the Town of Carefree, the Firm can help. The Firm also represents individuals in Order of Protection proceedings.
Contact the office today to arrange a free case evaluation of your Town of Carefree criminal case.
**This blog should be used for informational purposes only. It does not create an attorney-client relationship with any reader and should not be construed as legal advice. If you need legal advice, please contact the Firm to schedule a consultation regarding your case.