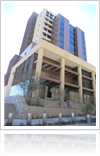 According to local news reports (azcentral.com), last week, Mesa police spotted a 22-year-old man driving 30 miles per hour over the speed limit. When officers attempted to pull him over, the driver allegedly ignored them and continued speeding. Eventually, he turned into a parking lot and began weaving in and out of parked cars. After allegedly losing control of his vehicle, the man skidded to a stop where police were able to apprehend him.
Police report multiple cans of unopened Bud Light beer in the car, and a DUI test showed the man's blood alcohol content (BAC) at 0.169%. Peace officers arrested the man after he allegedly admitted to drinking 22 beers before operating the vehicle. He was detained under suspicion of extreme DUI, excessive speeding, and unlawful flight.
This not the first DUI case reported in Mesa since the beginning of the month. In fact, a startling number of DUI arrests have been made, many of them related to methamphetamine or other drug use. On Sunday, a 39-year-old Mesa man was caught driving under the influence of Meth. Police also found 55 grams of the drug in the back seat of his car.
On June 4th, a woman from Mesa faced allegations of heroin possession. The 28-year-old driver was pulled over around 8 p.m. when police realized that they had pulled her over for a suspended license offense a short time prior. The woman allegedly had a glass pipe inside the car with a tar-like substance on the inside that police recognized as heroin. She admitted to smoking it about four times a day and was arrested.
Both alcohol and drug-related DUI's are treated very seriously in Arizona, with some of the toughest DUI laws in the country. These charges can result in serious consequences, including the possibility of jail time, steep fines, loss of driving privileges, increase in insurance rates, interlock ignition requirements, alcohol classes and probation.
If you have been charged with any type of DUI in the State of Arizona, contact an experienced and aggressive DUI Defense Attorney to discuss your legal options.
**This blog should be used for informational purposes only. It does not create an attorney-client relationship with any reader and should not be construed as legal advice. If you need legal advice, please contact the Firm to schedule a consultation regarding your case.