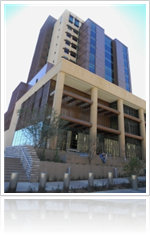 Felony Charges in Phoenix, AZ
If you are facing first time felony charges in Phoenix, AZ, you may be unfamiliar with the court proceedings and case progression involved in this type of case. Felony charges are taken very seriously and it is important that you understand what is expected of you and how your attorney can help you navigate through our often-complex criminal justice system. If you retain a private attorney, typically the first documents filed on your behalf will be a Notice of Appearance – to inform the court and assigned prosecutor that this Firm will be appearing with you at all future court dates, and a Motion for Discovery – so we can obtain all discovery materials from the Maricopa County Attorney's Office (or assigned prosecuting agency).
The first hearing in a Phoenix felony prosecution is called an Initial Appearance. The purpose of the Initial Appearance is to ascertain the true name of the accused, inform the accused of the charges pending, appoint counsel if appropriate, make an initial probable cause determination, and determine release conditions – you may be released on your own recognizance "OR", the Judge may set a bond amount, or in some cases you may be non-bondable. If you have retained an attorney prior to this hearing, the attorney will argue for your release, or in the alternative, for a reduction in the bond amount.
After the Initial Appearance, your case will be set for a Status Conference in the Regional Court Center in downtown Phoenix – currently in the new South Court Tower of the Maricopa County Superior Court. This is typically your attorney's first opportunity to obtain and review the initial discovery materials as well as the opening plea offer in your case. If no agreement is reached at this hearing, your attorney may seek a continuance to allow additional time for case investigation, further plea negotiations with the prosecutor and in many cases, to draft what is referred to as a Deviation Letter to the assigned prosecutor, outlining reasons why a more lenient plea agreement may be appropriate in your case. In some instances, the Status Conference may be "scratched". This means the prosecutor is not prepared to proceed but they can re-file your case at any time up until 7 years from the date of the alleged incident. We typically see cases re-filed anywhere from 2-8 months after being "scratched".
If a satisfactory agreement cannot be reached at the Status Conference in the Regional Court Center, your case will then be set for a Preliminary Hearing. At the Preliminary Hearing, the prosecutor will call at least one witness – usually a police officer, to testify to the initial findings of the police investigation. If the Judge is convinced there is probable cause to believe that a crime was committed then an Arraignment hearing will be set and you will enter a formal plea to the charge at that hearing. Alternatively, in lieu of a Preliminary Hearing, the prosecutor may instead present the case to a Grand Jury for a determination of probable cause and if they determine probable cause exists, then the case will be set for Arraignment. In either proceeding, if probable cause is not found, the case will be dismissed.
After the Arraignment, a Phoenix felony case will be set for a Pre-Trial Conference hearing where your attorney will have another opportunity to meet with the assigned prosecutor and discuss your case as well as obtain any additional discovery and any plea offer. Pre-Trial Conference hearings (usually up to three) are held every 30 days while your attorney completes the defense investigation work (including interviewing witnesses, examining evidence, conducting crime scene visits, etc.), ensures all discovery materials are received, continues ongoing plea negotiations and/or dismissal agreements with the prosecutor and to discuss case strategy and options for resolution with the client. There are various other hearings that may be set during Phoenix felony case proceedings, including Evidentiary Hearing(s) and Settlement Conference(s). If/when a pre-trial resolution is reached (i.e. plea agreement), then your case will be set for Change of Plea and Sentencing. If it is determined that the best option for your case is to take it to trial, then hearings will be set for Trial Management Conference and ultimately Jury Trial.
There is much work involved in conducting felony defense investigations and the hearings can be much more complicated than what is outlined here, but this gives you a general idea of the types of hearings you can expect in a felony case in Phoenix. For more detailed information regarding criminal defense strategies, hearings and the court system, investigations, crimes, criminal law and other information regarding criminal cases, visit the home page of our website and request a FREE copy of a book entitled 'Arizona Criminal Defense Strategies' written by Attorney Trent Buckallew.
Attorney Trent Buckallew has handled countless felony cases in Phoenix, AZ including Aggravated DUI cases, Aggravated Assault cases, Child Abuse cases, Burglary, Disorderly Conduct, Drug Crimes (including possession, sales and distribution), Probation Violation matters, Sex Crimes, Violent Crimes (including Weapons Crimes, Endangerment and Domestic Violence), and numerous other felony charges. Mr. Buckallew has extensive experience in criminal litigation and a proven track record in achieving successful resolution in many of the felony cases he has handled over the years, including acquittals after trial, dismissals, deferred prosecution agreements, and plea resolutions.
If you have been charged with a felony crime in Phoenix, AZ, contact the Firm today for a free evaluation of your case.
**This blog should be used for informational purposes only. It does not create an attorney-client relationship with any reader and should not be construed as legal advice. If you need legal advice, please contact the Firm to schedule a consultation regarding your case.