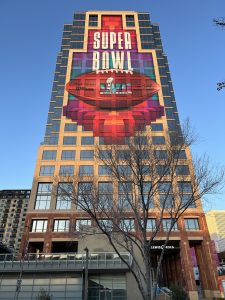 With multiple events going on in February, including Super Bowl LVII, the Waste Management Open, and the Barrett Jackson Car Auction, hundreds of thousands of people descended upon the Valley of the Sun. According to the Super Bowl Host Committee, close to 300,000 visitors came through the NFL Experience in downtown Phoenix, including nearly 25,000 fans in Margaret T. Hance Park for the Super Bowl Sunday watch party. (Fox 10 Phoenix 2/23/23)
Other Super Bowl events were held throughout the valley, including the Old Town Scottsdale Main Street Tailgate, a Super Bowl Gospel Celebration in Mesa, a Super Bowl Music Fest in Phoenix, and of course the Super Bowl itself took place in Glendale, AZ at the State Farm Stadium.
Sky Harbor International Airport broke records on Monday, the day after SBLVII as over 200,000 fans were returning back to their hometowns after the big game.  (AZCentral.com 2/16/23)
With the multiple events going in during the month of February, there were likely an increase in arrests during that timeframe. The types of cases we have seen so far have primarily involved alcohol violations, including DUI and Minor in Possession/Consumption as well as Disorderly Conduct cases. Multiple City, State, and Federal law enforcement agencies also performed a sex-trafficking sting operation across the Valley, which resulted in several arrests, including 300 misdemeanor and 48 felony arrests involving 120 arrests for 'sex buyers' and 35 arrests for prostitution. Law enforcement agencies have not provided additional information on the other arrests, citing that they are "open investigations", although, according to court records, 6 of the arrests involved 'soliciting sex from minors'. (AZ Republic 2/26/23)
If you are facing charges stemming from any of the multiple events in Arizona, whether you were here for the Super Bowl in Glendale, AZ, the Waste Management Open in Scottsdale, AZ, Barrett Jackson Auto Auction in Scottsdale, AZ, or just the magnificent sunshine, this Firm can help. It is stressful enough facing charges, but then add to that, residing outside the state of AZ and great distances from the courthouse in which you are set to appear, can just add to the challenge of facing criminal charges.  Having a local attorney who is experienced in representing out of state clients, can relieve a lot of the stress involved with navigating through our criminal justice system here in Arizona. Mr. Buckallew has nearly 25 years' experience handling all types of criminal charges, ranging from DUI to Aggravated Assault, Domestic Violence, Disorderly Conduct, Soliciting Prostitution and all types of other criminal violations. He is Board Certified in Criminal Law and has been defending against DUI and Criminal charges in the state of Arizona since he began practicing law over 2 decades ago.
Contact the Firm today for a free case evaluation of any pending criminal case in the State of Arizona.