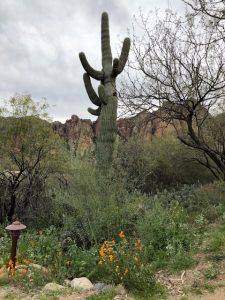 It's that time of year again for the biggest music festival in Arizona – Country Thunder, which is held at Canyon Moon Ranch in Florence, Arizona (Pinal County), situated about 60 miles southeast of Phoenix. The festival runs April 11th -14th (Thursday-Sunday) this year. Nearly 30,000 people are expected to attend the festival each day and many people reserve on-site campsites for the weekend of festivities. Some of the headliners this year include Brett Eldredge, Tim McGraw, Phoenix native Dierks Bentley, and for the very first time at AZ Country Thunder – Chris Stapleton, among other popular country music stars.
As in years past, multiple law enforcement agencies will have a presence during the festival weekend, ensuring safety and security of all festival participants as well as patrolling the roadways leading into and out of Canyon Moon Ranch. The primary law enforcement agencies who usually have a presence each year at Country Thunder include the Pinal County Sheriff's Office (PCSO) and the Arizona Department of Liquor License/Control – both uniformed officers as well as undercover officers.
According to the Pinal County Sheriff's Office, they responded to a total of 227 calls within the campground and concert areas last year (2018), which resulted in 16 arrests (18 charges). Of those charges, there were 7 Disorderly Conduct violations, 4 Assaults, and then 1 each of Possession of Narcotic Drugs, Criminal Damage, Resisting Arrest, Misconduct Involving Weapons, Hit and Run with Injury and Liquor Violations. According to a recent article in AZCentral.com, there were 85 other arrests for Underage Drinking violations.
PCSO also actively patrols the roads leading into and out of Canyon Moon Ranch and made 481 traffic stops, resulting in 38 arrests and citations during the 4-day festival last year. These arrests included 9 misdemeanor DUI tickets, 2 Extreme DUI tickets, 2 DUI-Drug tickets, 1 Underage DUI and 1 Minor in Consumption ticket along with a handful of speeding tickets and various other arrests.
If you received a citation while attending the Country Thunder music festival, the court you were cited into will depend upon whether you were ticketed by PCSO, AZ Department of Liquor License/Control, the Florence Police Department, (or another law enforcement agency). However, it is most likely that you will be appearing in either the newly districted Central Pinal Justice Court (formerly known as the Florence Justice Court) or the Florence Municipal Court if you are facing misdemeanor charges, or the Pinal County Superior Court if you are facing felony charges.  The court you will need to appear in will be listed on your ticket along with the date and time of your hearing.
If you were charged with DUI after leaving Country Thunder, or charged with an underage drinking violation, or any other criminal violation during the festival, it is important to seek legal advice from an experienced Criminal Defense/DUI Lawyer before making any decisions in your case. Depending on the violation, the consequences of a DUI or Minor in Consumption conviction can be significant, including the possibility of jail time, alcohol treatment and classes, license suspension, fees and fines, community work service, probation, a permanent mark on your criminal record, and can also affect a students' ability to obtain certain college scholarships and financial aid as well as future employment opportunities. In certain cases, entering into a diversion program may be an option, which means that you can avoid a conviction on your record by taking alcohol education classes and paying the fees associated with the diversion program. In circumstances where diversion may not be an option, your attorney will be able to determine what other legal options you may have in resolving your case, whether it be a negotiated settlement or trial resolution.
We have handled many cases arising out of Country Thunder arrests over the past several years and are familiar with the various types of criminal violations people receive during this festival.  If you or a family member are facing charges from Country Thunder weekend, this Firm can help. Whether you have received an Underage Drinking violation, DUI, Assault or any other criminal violation, this Firm can assist in your defense.
Mr. Buckallew is a Board Certified Criminal Defense Attorney, with nearly 20 years' experience in defending against all types of criminal and DUI cases in most courts throughout Pinal and Maricopa Counties. Contact the office today to arrange a free initial case evaluation for any pending criminal charge you may be facing.