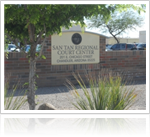 We have recently discussed both initial and pretrial hearings in a DUI cases, and while many cases can be resolved during the pretrial phase of a case (or even earlier in some cases), there are various circumstances where a DUI case is set for trial. The thought of trial can be very nerve-wracking for many reasons, but understanding what to expect once a case is set for trial can possibly alleviate some of these concerns. Prior to the day of trial, you will likely have what is usually referred to as a Trial Management Conference or a Calendar Call.
Trial Management Conference
A Trial Management Conference is a final conference that precedes a jury trial. In misdemeanor courts it is often called a 'calendar call'. Regardless of the name given, the purpose of the hearing is for the attorneys, you and the assigned judge to discuss final attempts at settlement, and to discuss any legal issues that may be relevant to the upcoming trial once it is determined that settlement will not occur. A Trial Management Conference can also be an opportunity for the court to rule on substantive pretrial motions that have been filed by your attorney. This can include judicial rulings on Motions to Dismiss, Motions to Suppress, and other pre-trial motions arguing procedural defenses. This is an important hearing as it may be your last opportunity for a successful resolution short of a trial. Thus, it is important that you work with your attorney in a collaborative effort to prepare for the Trial Management Conference so that you may achieve your litigation objectives.
Trial (Bench and Jury)
Cases which are not dismissed, or settled with a negotiated plea agreement, will proceed to trial. A trial can be either a bench trial (trial before a judge only), or a jury trial (a trial in front of a panel of citizens). In the felony court (Superior Court) it will almost always be a jury trial. In misdemeanor courts (City and Justice Courts) the right to a jury trial is more limited. However, even in a misdemeanor court some crimes are still jury trial eligible. Your attorney should be able tell you if your case is jury trial eligible in the misdemeanor court, and your attorney should file the appropriate legal motions necessary to preserve your jury trial rights in the lower courts. The trial is, without a doubt, the most important part of the entire criminal justice process. In order for you to have your best chances of success at trial you should retain an attorney who has a demonstrated record of success at trial. You should seek to retain an attorney who has experience handling both bench and jury trial. Equally important, you should seek to hire an attorney who you believe will invest the necessary time and effort into the pretrial stages of your case, one who will work diligently to conduct an effective defense investigation into your case. Choosing an experienced attorney with a proven record of success who will work diligently on the development of your case should give you the maximum chance of obtaining a good result in your case. The key to success in any litigation is preparation, preparation, and more preparation during the pretrial phase of your case. If the case is not properly prepared during the pretrial phases then it will be too late for a comprehensive defense to be developed – on the fly – at trial. Thus, it is important that you hire an attorney who you feel is competent in their abilities to investigate and litigate your case. You should feel confident that the attorney you retain has the time, energy, skills, experience and passion for the work to properly handle your case.
Sentencing
In the unfortunate event that you are convicted of a criminal offense, whether it is as a result of a negotiated plea agreement, or by a finding of guilt following either a bench or jury trial, under either scenario the court will have to proceed to sentencing. On felony and misdemeanor cases following trial, your attorney should normally be filing various post-verdict motions such as a 'Motion for New Trial' and 'Motion for Judgment Notwithstanding Verdict'. If you are remanded into custody (normally on felony cases, but sometimes on misdemeanor cases as well) your attorney should be filing a 'Motion for Release Pending Appeal' seeking to gain your release from custody. Your attorney should also be developing evidence of mitigating factors relevant to your case. Mitigating factors are any factors that would tend to suggest that this is an isolated event and that you are a good person deserving of leniency. Normally, the attorney should prepare a Mitigation Memorandum for the court. This memorandum can be used to advocate for a more lenient sentence for the client. On cases where you have entered into a negotiated plea agreement the sentence should be spelled out within the plea agreement itself, and the sentence should be pre-approved by you before you agree to enter the plea. Under this scenario there is no mystery at sentencing as to what the punishment will be because you have already negotiated your punishment directly into the plea. This will limit what the judge can do to you at sentencing. Finally, if you went to trial and were found guilty your attorney should discuss with you your rights to appeal the conviction, and your attorney should file the 'Notice of Appeal' for you – before he or she withdraws from the case.
Mr. Buckallew is a Board Certified Criminal Law Specialist, have been certified by the State Bar of Arizona, and has defended countless DUI cases – both misdemeanor and felony, over the course of his career, in Chandler and throughout the East Valley. If you were charged with a misdemeanor DUI in Chandler, your case will likely be filed in the Chandler Municipal Court if you were arrested by the Chandler Police Department. If you were arrested by Maricopa County Sheriff's Office or AZ DPS, your (misdemeanor) case will likely be filed in one of the Justice Precincts in Chandler – the Kyrene Justice Court, the San Marcos Justice Court, the San Tan Justice Court or the University Lakes Justice Court. If you were charged with felony DUI in Chandler then your case will likely be filed in the Maricopa County Superior Court – Southeast Facility. The firm handles all types of DUI cases ranging from 1st Time DUI, Extreme DUI, Aggravated DUI, DUI-Drugs, DUI involving Injury or Death, Underage DUI, and any other DUI related violation. Mr. Buckallew has extensive experience and has achieved successful outcomes in countless cases ranging from trial acquittals, dismissals, non-DUI plea agreements and other favorable resolutions. Contact the Firm today for a free evaluation of your pending Chandler DUI case.
Copyright © 2011 Trent R. Buckallew, Attorney at Law The Law Offices of Trent R. Buckallew, PC Arizona Criminal Defense Attorney
**This blog should be used for informational purposes only. It does not create an attorney-client relationship with any reader and should not be construed as legal advice. If you need legal advice, please contact the Firm to schedule a consultation regarding your case.