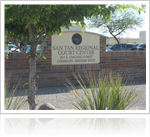 Queen Creek is a small town situated in southeast Maricopa County, with the southern portion of town overlapping into Pinal County. The town is a unique mix of housing sub-divisions, homes on acreage, farmers and ranchers, and despite its growth, Queen Creek still has that rural feel about it. The San Tan Mountains lie to the south of Queen Creek and offer plenty of recreational activities including hiking, biking, camping and the like. Queen Creek is also home to the only working olive farm and mill in the State of Arizona – Queen Creek Olive Mill, where visitors can tour the olive mill, stroll through the olive groves, enjoy casual dining, and purchase a variety of olive oils and other unique gifts. Schnepf Farms is another longtime local fixture in the town of Queen Creek, where visitors can dine at the bakery, enjoy a hayride, tour the farm, go veggie picking, visit the museum, and much more. Given its small town feel, abundance of recreational activities, and easy commute to Phoenix and other valley cities, Queen Creek has become one of the "best kept secrets" in Arizona.
The Town of Queen Creek contracts with the Maricopa County Sheriff's Office (MCSO) to provide law enforcement services to the town as well as the unincorporated areas surrounding the town. If you are cited with a criminal violation in the Town of Queen Creek or surrounding unincorporated county islands, your case will likely be handled in the San Tan Justice Court, if you are being charged with a misdemeanor crime. Felony criminal charges are generally filed in the Maricopa County Superior Court. The southern portion of Queen Creek, which overlaps into Pinal County, is patrolled by Pinal County Sheriff's Office (PCSO). If you were cited by PCSO, your case will likely be under the jurisdiction of one of the Pinal County Justice Courts, if it is a misdemeanor, or Pinal County Superior Court if it is a felony charge.
The Firm has represented countless individuals who have been criminally charged in Queen Creek, either by MCSO or PCSO, ranging from simple misdemeanor disorderly conduct charges to very serious felony Aggravated DUI and Aggravated Assault cases. Mr. Buckallew is committed to the defense of individuals charged with a crime and focuses his scope of representation on matters involving criminal litigation, including (but not limited to) allegations of DUI (including 1st Time DUI, Extreme DUI, and Aggravated DUI), Juvenile Criminal Matters, Underage Drinking, Minor in Possession, Drug Offenses, Disorderly Conduct, Domestic Violence, Assault, Theft, Shoplifting, Probation Violations and any other criminal violation. He has a proven track record of successfully resolving countless cases over the course of his career. Mr. Buckallew has also recently been elected as a National Trial Lawyers Top 100 Trial Attorney for 2012.
If you have been charged with a crime in the Town of Queen Creek, contact the Firm today for a free evaluation of your case.
**This blog should be used for informational purposes only. It does not create an attorney-client relationship with any reader and should not be construed as legal advice. If you need legal advice, please contact the Firm to schedule a consultation regarding your case.