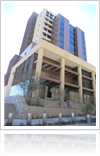 Please celebrate responsibly and enjoy a safe and happy New Year's Eve! If you plan on drinking tonight, make transportation plans ahead of time for the safety of yourself and other drivers on the roadways. There are plenty of options to ensure a safe arrival home at the end of the night, including taxi or limo service, Uber or a designated driver. In addition, AAA Tipsy Tow service is once again offering a free (10-mile) tow and ride home – call 1-800-AAA-HELP between 6PM Dec. 31st and 6AM Jan. 1st https://www.az.aaa.com/news/automotive/tipsytow. Also, check out Valley Metro as they are teaming up with Coors Light to provide free rides on bus, light rail and ADA Dial-a-Ride services beginning at 7PM on New Year's Eve. See more at: http://www.valleymetro.org/landing_page/freerides/.
If you do find yourself being charged with a DUI, it is critical to seek the advice of competent legal counsel as soon as possible. Arizona has some of the toughest DUI laws in the country and if convicted, the penalties include significant fees, fines, mandatory incarceration, alcohol counseling, potential for increased insurance premiums, ignition interlock requirements, probation, possible vehicle impoundment, license suspension, and other unanticipated consequences.
The penalties are typically harsher the higher your blood alcohol content (BAC) and can also be harsher when certain 'aggravating' factors are involved, such as having a minor child (under the age of 15) in the car, having a suspended/revoked driver's license, or having multiple DUI convictions at the time of the DUI stop. At a minimum, the penalties for a First Time DUI with a BAC of .08-.15% can include up to 6 months in jail, a $2,500 fine (with 84% surcharge) plus additional fees, a 90-day to 1 year driver's license suspension, ignition interlock requirement, mandatory alcohol screening and counseling, probation and potential for increased insurance, among other consequences. Extreme DUI (BAC of .15-.20%) and Super Extreme DUI (BAC > .20%) result in even harsher penalties including increased jail time, higher fees/fines, vehicle impoundment, license suspension, and other penalties. If there are 'aggravating' circumstances involved at the time you are stopped, you will likely be charged with a Class 4 or Class 6 Felony DUI. Aggravating circumstances, as previously mentioned, can include having a minor child in the car, having multiple prior DUI convictions or driving without a valid driver's license (i.e. suspended/revoked). As you can imagine, the more serious the circumstances and the higher your BAC, the harsher the penalties will be. The prison term for an Aggravated DUI conviction can be anywhere from 4-months up to several years. The fees and fines are substantially higher for felony DUI's, as are other penalties, including longer license suspension, increased insurance premiums, probation, classes and other unanticipated consequences.