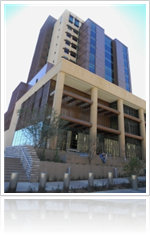 Law Enforcement agencies across the West Valley are planning DUI saturation patrols on New Year's Eve, looking for drivers under the influence of alcohol and/or drugs. The West Valley DUI Task Force consists of officers from the Arizona Department of Public Safety (DPS), The Governor's Office of Highway Safety (GOHS), the Maricopa County Sheriff's Office (MSCO), and city police departments in Tolleson, Surprise, El Mirage, Glendale, Peoria, Goodyear, Avondale and Buckeye.
New Year's Eve is a time for celebration, but remember – enjoy the holiday, be safe and drink responsibly! If you are stopped for a DUI investigation, be prepared and know your rights. 1) If you are stopped, be prepared to show the officer your driver's license, registration and proof of insurance. 2) You have the right to remain silent! The officer will likely ask you several questions, such as "Do you know why I stopped you?" or, "Have you had anything to drink tonight?" You should never admit guilt, never lie, just simply invoke your right to remain silent. 3) You have the right to refuse field sobriety tests as well as a preliminary breath test using a non-certified device, HOWEVER, if you refuse to submit to a breath test using a certified device or a blood test, the officer will likely obtain a warrant, and get the evidence anyways, and your license will then be automatically suspended for 12 months due to this refusal (contact the Firm for more details regarding Arizona's 'implied consent' laws). 4) You have a right to legal counsel; ask to speak to an attorney early on in the DUI investigation to ensure your rights are protected.
The Firm handles DUI defense throughout the West Valley, including Phoenix, Avondale, Buckeye, Goodyear, Peoria, Glendale, El Mirage, Surprise and Tolleson. If you have been arrested for a DUI, whether it is a 1st Time DUI, Extreme DUI, Aggravated DUI or DUI with Drugs, the Firm can help. Contact the office today to arrange a free, no obligation consultation regarding your case.
**This blog should be used for informational purposes only. It does not create an attorney-client relationship with any reader and should not be construed as legal advice. If you need legal advice, please contact the Firm to schedule a consultation regarding your case.