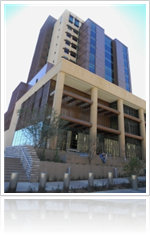 Avondale is one of the fastest growing cities in the West Valley, settled at the base of the Estrella Mountains and just a 15-minute commute from downtown Phoenix. Thousands of NASCAR and racing fans descend on this city each year, attending races at Phoenix International Raceway (PIR), which is a significant boost to the local economy. Located in the heart of the west valley, Avondale is also nearby the University Of Phoenix NFL Stadium – home to the Arizona Cardinals, as well as several baseball spring training facilities, including the Los Angeles Dodgers and the Chicago White Sox in neighboring Glendale; the Cleveland Indians and Cincinnati Reds in nearby Goodyear; the San Diego Padres and Seattle Mariners in Peoria; and the Kansas City Royals and Texas Rangers in Surprise. Being centrally located in the west valley, with close proximity to many sporting events, year round entertainment, educational opportunities, shopping, dining and family activities, Avondale continues to grow and its population is expected to double in the next 5-7 years from its current population of around 76,000.
Law enforcement in Avondale is handled primarily by the Avondale Police Department and misdemeanor criminal complaints are generally filed in the Avondale City Court while felony criminal complaints are generally filed in the Maricopa County Superior Court. If you are arrested by AZ Department of Public Safety (DPS) or another law enforcement agency, your case may be handled in one of the west valley justice courts, including Country Meadows Justice Court, White Tank Justice Court, Agua Fria Justice Court or one of the other west valley justice courts.
The Firm represents individuals facing criminal charges throughout Phoenix and the West Valley, including criminal cases in Avondale and surrounding areas. Mr. Buckallew is a Board Certified Specialist in Criminal Law, having been certified by the State Bar of Arizona. He has handled a wide range of criminal cases, from simple misdemeanor criminal speeding tickets to very serious and complex felony homicide cases, DUI and Drug cases, Assault and Disorderly Conduct cases, Domestic Violence cases, Juvenile Crimes cases, Underage Drinking, and many other criminal cases. The Firm also handles matters involving Orders of Protection, Restraining Orders and Injunctions against Harassment. If you have been charged with any criminal violation in Avondale, the Firm can help.
Contact the office to arrange a free consultation regarding any pending criminal charge in Avondale or surrounding areas.
**This blog should be used for informational purposes only. It does not create an attorney-client relationship with any reader and should not be construed as legal advice. If you need legal advice, please contact the Firm to schedule a consultation regarding your case.