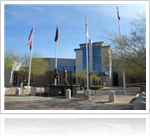 A first time misdemeanor DUI includes violations involving, impaired to the slightest degree, above a .08 (BAC), any drug, any drug metabolite, or vapor releasing substance (ARS 28-1381). If you have been charged with a 1st time misdemeanor DUI charge, the penalties can be significant and the consequences long lasting. The maximum jail time for a misdemeanor DUI is 6 months. The minimum jail time is 10 days (9 may be suspended upon successful completion of alcohol classes or Continuous Alcohol Monitoring Program). Financial penalties for a first time DUI are steep and can include fines, court assessments and surcharges ofapproximately $1500.00, plus additional costs for alcohol screening and classes, jail costs, MADD Victim Impact Panel, and interlock ignition device (approximately $800-$1,000 for 12 months). In addition to financial penalties, a 1st time DUI conviction may result in a 90-day license suspension (1 year revocation if convicted of drug related DUI). Other penalties following a DUI conviction can include, possibility of probation (up to 5 years), alcohol / drug screening and classes, community work service, possibility of SR22 insurance (increased insurance rates), and interlock ignition device requirements (for alcohol related DUI).
When facing DUI charges and the significant consequences if convicted, it is critical to consult with an experienced attorney regarding your legal options before you make any decisions in your case. Mr. Buckallew is an experienced litigator with extensive trial experience in both DUI and criminal cases. In addition to his law degree, he also holds a Master's in Forensic Science (M.F.S.) degree, giving him unique insight and expertise in challenging the scientific evidence in your case. The Firm will vigorously advocate on your behalf, and has a proven track record in successfully resolving serious and complex criminal and DUI cases. Early involvement by the Firm is critical to ensure that your rights are protected throughout every stage of the case. A full investigation of the evidence against you will be undertaken as the first priority. Through the course of his investigation, the attorney will identify any potential legal, procedural, or factual weaknesses in the case and determine the best course of action in resolving the case under the most favorable terms possible.
Contact the Firm today for a free consultation regarding your DUI case with an experienced and aggressive criminal defense attorney. The Firm handles DUI cases throughout the East Valley (including Chandler, Scottsdale, Tempe, Mesa, Gilbert, Apache Junction, Fountain Hills, San Tan Valley, Queen Creek and Casa Grande) as well as Phoenix, the West Valley, and statewide.