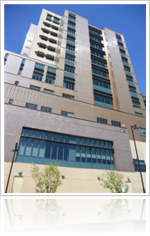 New South Court Tower in Phoenix
The long awaited Maricopa County Superior Court South Court Tower is now open, having held its grand opening on the day of Arizona's centennial celebration – February 14, 2012. The new court tower is located at 175 West Madison Street in Downtown Phoenix, just south of the main courthouse on Jefferson, with a skywalk connecting the two courthouses. The downtown Superior Court has been bursting at the seams for several years, as many criminal court Judges have been relocated from the Maricopa County South East Facility to the downtown facility in the past couple of years, as well as the simple fact that criminal cases have increased significantly in Maricopa County in the past decade.
The new 16-story South Court Tower currently has 22 courtrooms, houses the jury assembly area on the 1st floor and Clerk of the Court Criminal Exhibits on the 4th floor, along with Grand Jury Services. The offices of the County Attorney, Public Defender and Probation Department are located on the 2nd and 3rd Floors along with criminal courtrooms, including the Regional Court Center (RCC) and Early Disposition Court (EDC).
The downtown criminal courts in both the new South Court Tower, as well as the old East and Central Court Towers service all felony criminal filings from agencies in Phoenix and the West Valley (including Glendale, Avondale, Buckeye, Surprise, Peoria, Anthem, Litchfield Park, Goodyear, Gila Bend, Gila River Indian Community, El Mirage, New River, Sun City, Tolleson, Wickenburg and Youngtown). The downtown criminal courts also service all East Valley criminal cases during the Pre-Trial/Trial phases of those cases if they are not resolved in the Southeast Facility Regional Court Center (RCC)/Early Disposition Court (EDC).
The Firm represents individuals with pending felony cases, probation violations, and appeals in the Maricopa County Superior Courts, including the Downtown Phoenix Court Towers as well as the Southeast Facility in Mesa. The Firm handles all types of complex felony cases, including (but not limited to) Homicide, Aggravated DUI/DWI cases, Felony Drug Offenses, Aggravated Assault and other dangerous crimes, serious Sex Crimes cases, Property Crimes, White Collar Crimes, Probation and Parole Violations and many others. Mr. Buckallew has extensive experience as a criminal defense attorney and has a reputation for zealously defending each and every one of his clients. If you have been charged with a felony crime in Maricopa County, contact the Firm today for a free evaluation of our case.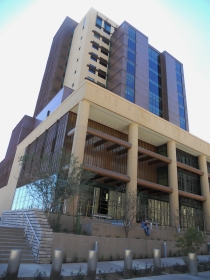 **This blog should be used for informational purposes only. It does not create an attorney-client relationship with any reader and should not be construed as legal advice. If you need legal advice, please contact the Firm to schedule a consultation regarding your case.