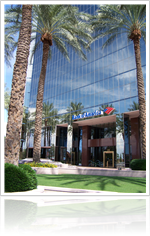 If you have been charged with a crime in Phoenix, Arizona, or surrounding valley cities, you may be worried and apprehensive about the future. An experienced criminal defense attorney can launch an aggressive defense on your behalf and advocate for you in court. Whether you have been charged with a sex crime, internet crime, violent crime, DUI, drug crime, or any other criminal violation, it is critical to seek counsel from an attorney with proven results to assist in your defense. Mr. Buckallew is a Mesa area criminal defense lawyer with the experience and track record to handle any criminal matter in the valley and throughout the State of Arizona.
Check out our client testimonials page to see what others are saying about Attorney Trent Buckallew. He has been described as informative, personable, knowledgeable, and compassionate. Mr. Buckallew cares about each and every client and has a reputation for zealously defending his clients in court. He has extensive experience in conducting a thorough defense investigation, proven ability to litigate any legal issues which may exist in a case, and negotiating the most favorable resolution possible in each case. Mr. Buckallew has also taken countless cases to trial, including misdemeanor bench trials and complex felony jury trials, with many cases resulting in acquittals or hung juries.
Mr. Buckallew was born in San Diego, California and grew up in Tempe, Arizona. He received his Bachelor's Degree in Justice Studies from Arizona State University (Tempe, AZ) and then attended the California Western School of Law (San Diego, CA) for his Juris Doctorate degree. From there, he passed the Arizona bar exam and accepted a position at the Mohave County Public Defender's Office, and subsequently, moved to the Maricopa County Public Defender's Office. At these public defense firms, Mr. Buckallew was able to gain invaluable trial experience and a greater understanding of the criminal justice system. During this time, he handled countless cases ranging from simple midemeanors to complex felony matters.
Mr. Buckallew is very skilled in handling both bench trials and jury trials, and also has significant experience in conducting pre-trial plea negotiations as well as settlement conferences. After years of experience in the public defense firms, Mr. Buckallew established his own solo practice, with an emphasis on criminal defense litigation and also handles select civil matters involving mental health Title 36 hearings (court order for treatment) as well as PSRB (Psychiatric Security Review Board) matters, and Injunctions Against Harrassment. Because he has a statewide practice, Mr. Buckallew can represent any individual in any court in the State of Arizona. This means that whether your case is under the jurisdiction of a City Court, a Municipal Court, a Justice Court or a Superior Court, Mr. Buckallew can represent you in these proceedings.
In addition to his law degree, Attorney Buckallew also earned a Master of Forensic Sciences degree from the National University (San Diego, CA). This unique educational background enables him to have an in depth understanding of both the legal side of a case as well as the forensic aspect inherent in criminal cases. Having an attorney who understands the complexity of the science behind the evidence, including the potential weaknesses of the scientific evidence in your case, can help ensure that you are properly represented and defended in court.
Mr. Buckallew belongs to many professional DUI and criminal defense organizations in order to keep abreast of the dynamic and ever changing practice of criminal and DUI litigation. He is an active member of The National Association of Criminal Defense Lawyers (NACDL), the State Bar of Arizona, the American Civil Liberties Union (ACLU), and the Arizona Attorneys for Criminal Justice (AACJ). He also belongs to the National College for DUI Defense (NCDD), The American Psychology-Law Society, Division 41 of the American Psychological Association and the American Academy of Forensic Science (AAFS). Mr. Buckallew has completed the Advanced Trial Skills Academy at the Institute for Criminal Defense Advocacy and also participated in the Arizona Forensic Science Academy.
Attorney Trent Buckallew has been nominated as one of the National Trial Lawyers Top 100 Trial Attorneys for 2012, a high honor that recognizes those attorneys who exemplify superior qualifications. With his educational background and extensive experience, Mr. Buckallew is well equipped to handle your case with both expertise and professionalism. He understands both the short term and long term impacts of a criminal conviction and will work tirelessly to resolve your case under the most favorable terms possible.
According to his Avvo account, Mr. Buckallew has been rated a 7.8/10 on the Avvo rating system. This is very high, and shows that he is a well regarded attorney. Clients have rated Mr. Buckallew under a variety of categories, and he has been able to maintain a perfect score regarding his professional conduct and his client reviews. Because of his experience and knowledge, Mr. Buckallew was invited to speak at the APDA Statewide Conference on the topic of Mental Health Law (2006) and has also published two eBooks entitled 'Arizona Criminal Defense Strategies' and 'Arizona DUI/Criminal Traffic Defense Strategies'. For a free copy of one (or both) of these books, submit your name and e-mail to the Firm via the home page of their website.
You can learn more about the Firm on our Facebook page, as well as Mr. Buckallew's Google+ profile, the Firm's HG listing, their Insider Pages profile or at their Merchant Circle listing. Follow us on Twitter as well to get more information regarding criminal defense related issues. If you have additional questions regarding your case or any area of criminal law, be it white collar crime, probation violations, or shoplifting, contact the Firm today. The Firm can also be contacted by e-mail at info@crim-law.info Whether this is a first time criminal violation, a probation violation, or you want to appeal your case, the Firm can help! Contact the Firm today to arrange a free evaluation of your criminal case.