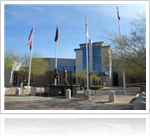 With Cinco de Mayo being one of the biggest drinking holidays of the year, the DUI Task Force conducted a statewide enforcement effort over the weekend, setting up checkpoints in the East Valley, West Valley and other points statewide. This DUI Task Force campaign resulted in 433 DUI related arrests. Of those, 134 were for extreme DUI, which is twice the legal limit, and more than 50 people were booked for drug-related DUI's. (Fox 10 News)
The Firm handles both alcohol and drug-related DUI charges in the East Valley, West Valley, and throughout the State of Arizona. If you were arrested by the DUI Task Force, or any law enforcement agency in the State of Arizona, contact the Firm at (480) 988-7993 to arrange a free consultation regarding your case.
Mr. Buckallew understands the serious consequences (which can include jail time, fines/fees, alcohol treatment and classes, interlock ignition requirements, and other penalties) and hardships (including possible loss of driving privileges) resulting from a DUI conviction and will work vigorously in building a strong defense on your behalf. The Firm is experienced in handling all types of DUI cases and has proven results ranging from acquittals at trial, full dismissals and negotiating non-DUI plea agreements. Having confidence in your attorney and in the legal representation that you will receive is a critical factor when looking for the right attorney to represent you.